► Back to My Kenya (beginning)
"Eccentric's house" (ganda nu ghar) (1954-1960):
When I had done a few months at the nursery school situated in the vicinity of the house near the railway station (I was about 6 years old), we moved in the middle of 1954 back to the old town of Mombasa, the area containing Fort Jesus, and the Old Port with the fish market adjacent to it. The house was an old building, our landlord owned 4 of the apartments, and he was an eccentric middle aged asian man with a short white beard, speaking Gujarati. And so the house was nicknamed the eccentric's house. I started my primary school Standard 1 here in 1955 upto Standard 5 in 1959.
The buildings in this area were densely placed with narrow alleys in between.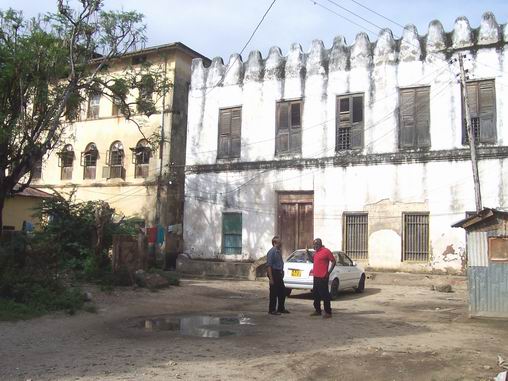 The eccentric's house (yellow). The white house to the right belonged to some relative of the Governor (Wali or Liwali) of Mombasa, who was appointed by the Sultan of Zanzibar, under whose suzerainty the coastal strip of Kenya belonged.
The son in this neighbour's family, called Babu Ali, was like a friend to us, although he did not play with us much. I remember about a week of festivities some time during our stay there, when they had fenced in a big area around the house for a week to celebrate a big wedding in their family (Babu Ali told me, when I met him for the first time after over 40 years in 2005, that it was he who had got married then. If it really was him, then he must have been in his teens when he got married. Alternatively, his marriage might have been a subsequent marriage, after we had moved out). We were invited and free to partake in whatever we liked. The festivities went on all night along, with music-and-dance groups invited from the Arabian peninsula, some of the dances being mildly sexually exciting (even to someone around ten years of age! Watch and listen to this on YouTube and you will see what I mean). I can still hum the arabic-swahili melodies (e.g. Leo ni leo) played on the loud speakers.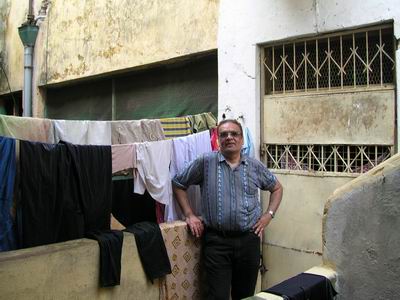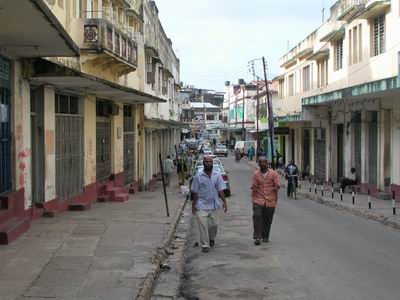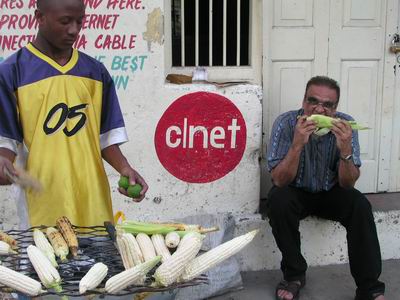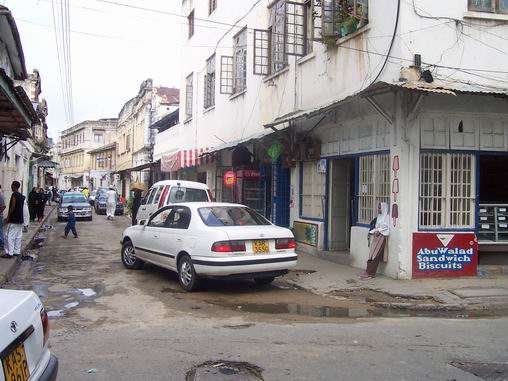 The entrance door to the eccentric's house (top, taken in 2005), and some photos of its neighbourhood.
One of my elder brothers, Dhiraj, was a "body builder" and loved all sorts of sports. He and other brothers belonged to a group who went swimming early every morning. I went along a number of times, and this is where I learnt to swim. We went to the Old Port, and took a rowing boat to the other side near a beach, and swam there; some of us sometimes swam back to this side if the currents were not so strong. Many evenings we practised our swimming in the sea near the Fort Jesus.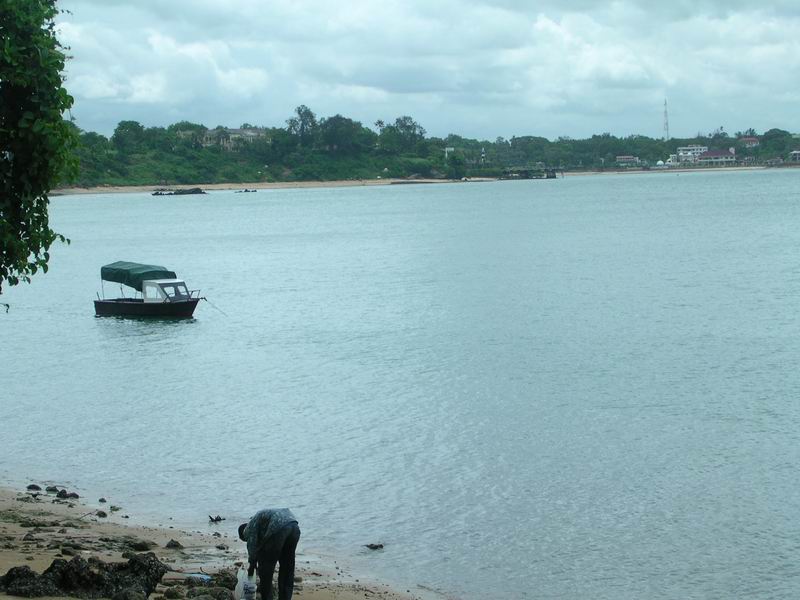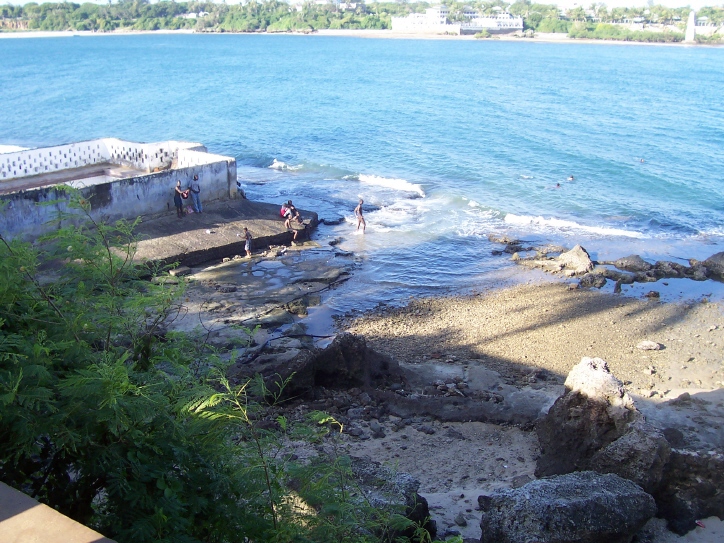 Above are the two places I learnt to swim.
Our neighbours uppstairs were Parsis, a widow with two beautiful daughters in their late teens. Parsis are descended from Persian Zoroastrians who emigrated, many of them from the Khorasan province of northeastern Iran, to the Indian subcontinent, principally Gujarat, over 1,000 years ago. Genetical analyses have suggested that "a male-mediated migration of the ancestors of the present-day Parsi population, where they admixed with local females [...] leading ultimately to the loss of mtDNA of Iranian origin". Zoroastrianism, which started taking form before 400 BC, was once the dominant religion of much of Greater Iran. There are many wellknown Parsis in India, including Indira Gandis husband Feroze Gandhi, the industrialist Tata, and the nuclear scientist Homi J Bhabha.
Our residence was not far from Fort Jesus, the huge fort lying along the coast, described elsewhere. Behind this Fort, there were bushes and trees of berries, and we liked very much to pick these berries. But we often feared one thing. There were quite a few arabic male adults who roamed about there, and who were either homosexuals or pedophiles or both, I don't know.
Electromagnetism
When I was about 11, I was taught at school that if an electric current was spiralled around a metal piece like a coil, the metal would become magnetic. That sounded exciting to me, that one really could easily construct magnets. So in the evening, when my father was reading the newspaper, my eldest brother Mahesh was writing some documents on the type-writer (some sort of assignments to earn some extra money for the family), and the other siblings were occupied with other household activities, I got hold of a piece of wire from the box containing tools and other odd electrical articles. I was excited about trying out to make a magnet, to surprise the others with my new ability. I took a kitchen knife made of steel, took the 30 cm wire and spiralled it around the knife. Then I plugged one end of the wire in one of the electrical outlets and then - plugged in directly the other end of the wire into the other outlet. Suddenly I got a small shock in my arm, there was a big spark, and all the lights went out in the apartment. The others were taken aback, they started going around the apartment to find out what had happened, and subsequently I had to say timidly what I had done. I got a scolding from Mahesh, that one should not play around with electricity, it was dangerous. When the situation had cooled down, I checked if the knife had become magnetic, and guess what! It really was magnetic!
My sister Hemlata got married in 1959 when I was about 11 years old. At least in those days, Indian children got married through the process known as arranged marriage. It was particularly important for the parents to see to it that their daughters got married before they were too old (meaning more than a couple of years above age twenty). Hemlata had just turned twenty then. Most of the expenses for the wedding ceremonies were borne by the bride's parents, so these parents were all the time conscious of saving enough money for the wedding. (When my eldest sister Manorama got married in 1951, she was age 19, and I was three years old).
The husband for the daughter is chosen through a very broad social network that the Indians had all over East Africa (Kenya, Uganda, Tanzania). My father at that time was working as a travelling salesman employed by an Indian shopkeeper, so he travelled to many places in Kenya and northwards towards and into Uganda.
Through these travels combined with the social network, my father met a family who had a son, and they were looking for a bride. They lived in a small town in Uganda called Iganga. After some scrutiny and discussions, I remember that my father sent a telegram to Mombasa asking my eldest brother to send my twenty-year-old sister Hemlata to Iganga. At that time it was kept a secret from us younger ones, until matters had finalized. I have very scanty memories of her marriage which took place in Mombasa. I remember that there were a lot of preparations to be made, the marriage ceremony lasted for several days, several hundred guests were invited and a lot of good food too.
Around that time, I also remember having wondered about one thing. I had noticed that married women got pregnant, but not unmarried women. So I was wondering what was done during the wedding ceremonies that made it possible for the woman to get pregnant in due course. I remember having asked my mother this question, and she told me that the priest who performs the wedding says certain things that initiated the pregnancy process. So I have now shared this secret with the reader too!
After getting married, Hemlata and her husband opened a small shop in a village near Iganga, called Bugiri. As a child I stayed there for some weeks on holidays, and it was a pleasant and fascinating experience. The journey itself to Bugiri was exciting, I took a train from Mombasa to Nairobi. In Nairobi lived my other sister Manorama with family, and Manorama's husband was employed as a clerk by a company called Madhvani Group, which had a sugar factory in Jinja (Uganda) as well as other factories and businesses in Uganda. So lorries carrying goods travelled regularly from Nairobi to Uganda, and they passed through Bugiri. So I sat besides the driver in the high freight lorry all the way, and saw the towns and villages as we went through them, and reached Bugiri.
Bugiri consited largely of lines of houses along the main highway (the highway was at that time not so busy). Hemlata's husband was also an agent for a tobacco company. Certain days a week, Hemlata would take care of the small shop in Bugiri, when her husband would travel by car to nearby villages to sell tobacco. It was very interesting to travel to these villages, and experience the life they were living.
First, we bought a black Prefect number W385, I would think it was around 1954, because I remember that when I was in standard 1 or 2 at Makupa Primary School (1955-1956), our eldest brother Mahesh used to come and pick us up from school at lunch time. I still remember my brothers Vasant and Dhiraj and me sitting on the wall-fence of the Makupa Primary School, in hot sun, waiting for the car to turn up; we all went to the same school. It could take up to half an hour. Every time a car appeared in the curved road and was approaching us, we looked anxiously if it was W385. One of the reasons was that the one who took the handle of the front door first would sit in the front. But because of disagreements, Mahesh subsequently said that we should take turns.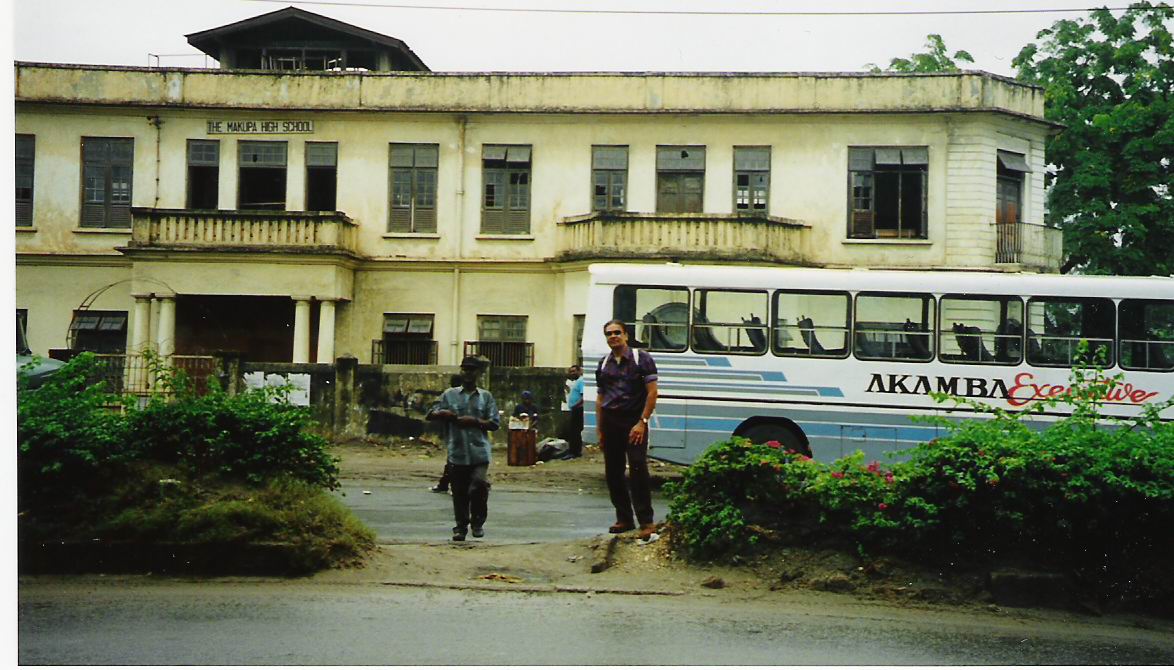 After this black car, we bought a Prefect of another model, which was light green. In this car I remember vividly, that our elder brother Vishnu used to drive us to and from a school called the Ziwani Primary School. From Standard 5 (1959) all the pupils were moved to another school, Memon Villa School for a year, and then to the newly built Ziwani Primary School, where I and Vasant did standards 6 and 7 (1960-1961).
With some displeasure I remember one thing around this time. We had a class mate who also lived in town, and wanted to take a lift home with us once. Then he started every afternoon asking us to take a lift in our car. I and Vasant did not like it, we tried to give him excuses that the car would be full with other friends of Vishnu, but he saw through us and waited by the road anyway, and when Vishnu came, Vishnu said let him come along. I do not know why we did not let this guy come along with us in the car every day, why we tried to dodge him away. I think Vasant and I wanted to have our own privacy with our family things, and maybe we were socially stingy. Vishnu said to us that if this guy wanted to take a lift every day, let him do it.
Vishnu has always been extremely generous with his friends. I also remember, a few years after the above period, Vishnu used to pick up regularly every morning, one other emplyee working at his work. So we drove to his house on a mud road, stopped the car outside, and waited for upto 10 minutes. Now and then, Vishnu would glance at his wrist watch. Interestingly, Vishnu had his wrist watch placed on the inside of the wrist, in contrast to the common style of having it on the outside. Vishnu used to wake up early in the morning, put on the Primus (see picture right), boil the big container of water, and then wake us up one at a time to take a bath.
GOING BACK to the Ziwani Primary School, it took about 40 minutes to walk home, which we often did. But during the rainy period, it could rain hours continuously. I remember a couple of occasions, when Vasant and I started walking home after 4 p.m. And it started raining cats and dogs. So we took refuge under different shop canopies, and tried to go a bit at a time. But the rain poured and poured, so we were forced to run in the rain several patches. We carried our schoolbags (theli), which were made of cloth. So when we got home, our books were soaking wet, and looked like they were from the 19:th century. I remember after dinner, we sat around a fire-place and tried to dry the books as best we could. We were worried that the books would become unusable. One reflection - was plastic not invented then, for the schoolbags? Maybe not so widespread. Things we take for granted now, were sparse and expensive at that time. However, plastic is today a great environmental hazard. Cows and other animals eat plastic bag pieces with the other stuff, and the plastic gets stuck in their intestines, and they die a painful death.
What about umbrellas? I suppose they were expensive too. And the problem was that we did not know precisely on what afternoon it would rain like that, and we did not want to carry unnecessary things. I remember nylon came when I was a child, and nylon became fascinating and popular, and was considered to be good qualiy. So much so, that when the arab hawkers sold something, like a piece of roasted cassava or other food stuff, and asked if it was good, he would say 'Ndio, mazuri saana. Lailon, lailon !! ' (Yes, very good, like nylon, nylon).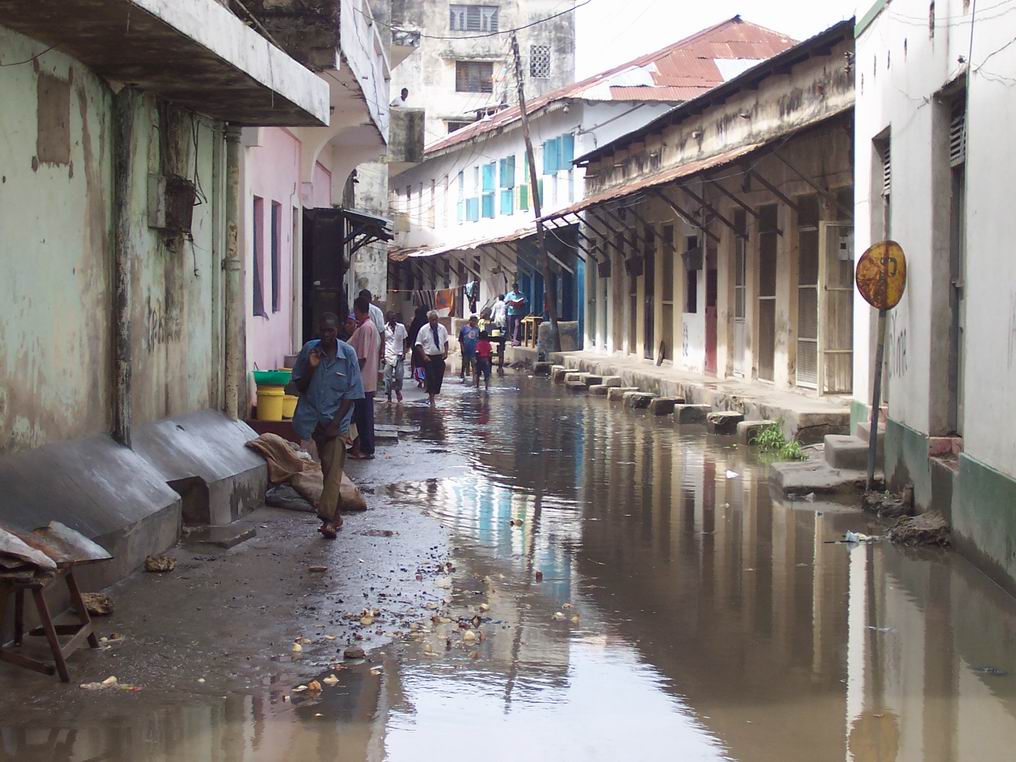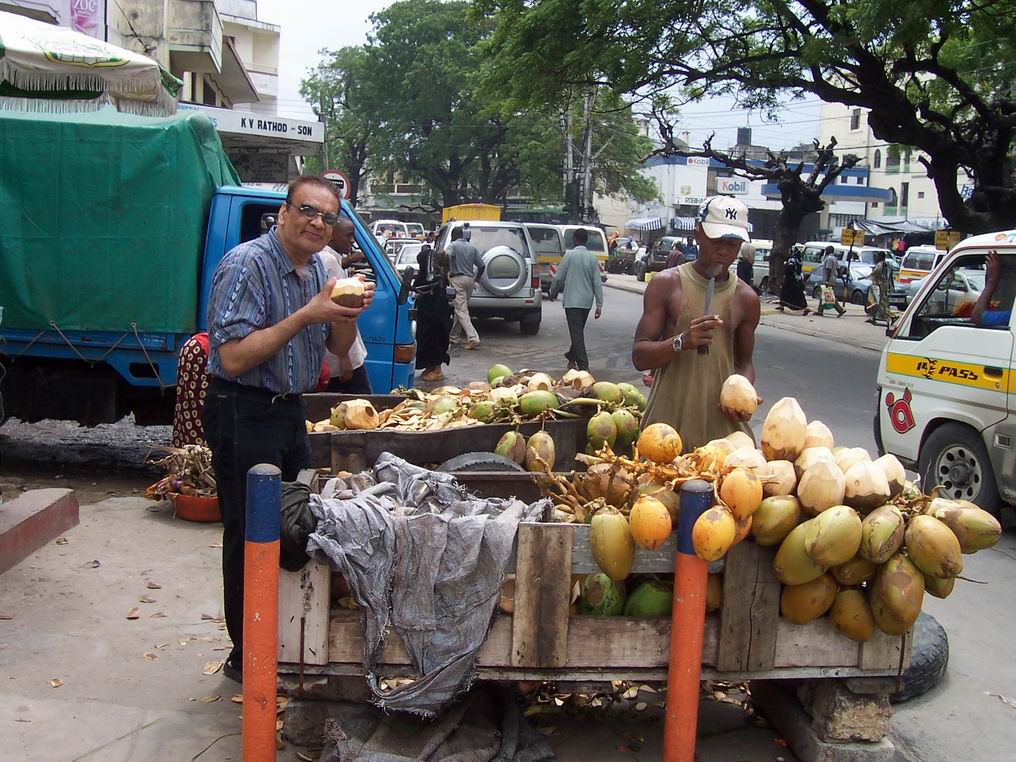 One of my passions in life is shown above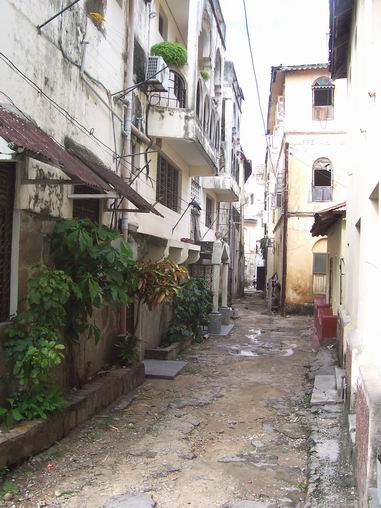 One of the several alleys leading to the eccentric's (yellow) house.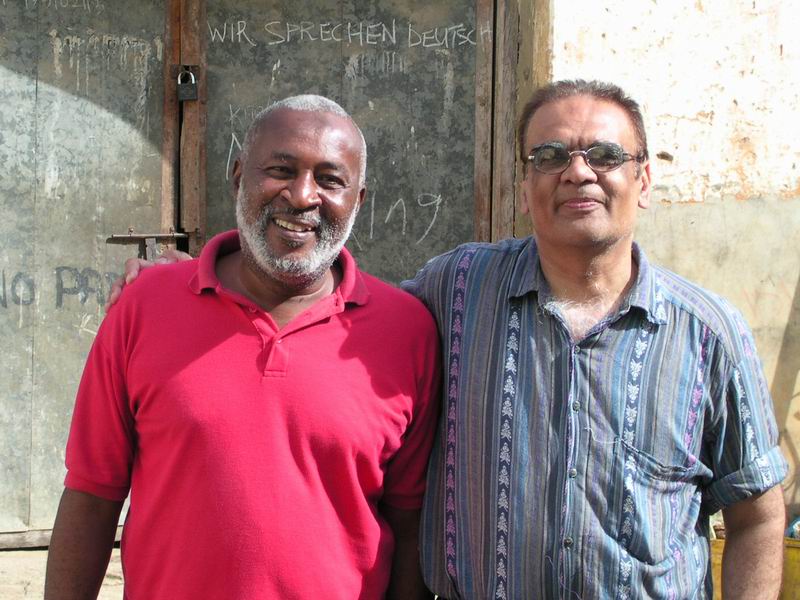 Meeting Babu Ali after over 40 years, in 2005
An event I also remember from these years but which, on the contrary, was a time of mourning for the Shia muslims (many from the Indian sub-continent lived there), was the day of Ashura. I remember the first time I saw it. When the evening was approaching, the narrow streets just around the corner from where I lived got filled with people in increasing numbers. And when it was dark, all were waiting in silence and solemnly for some procession, I was told. Then we heard solemn chanting get louder and louder as the procession approached us. In the procession, all were dressed in black, and some had lanterns. Many of them were thumping their chests in pace with the chanting. Others had black flags or placards which had patches of blood (goat's). Some were waving something that looked like a lantern, but which was steaming with some sort of scent. I felt creepy, but fortunately I had my elder siblings around me. As I have been informed afterwards, these people then went into a large hall and spent much of the night mourning and thumping their chests.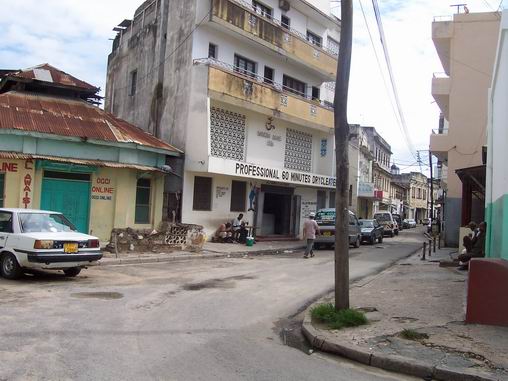 The procession of Ashura went along this street.
I am brought up as a Hindu and a vegetarian (I am still a vegetarian, and have always been that). However, I had around me Muslims from the Indian sub-continent as well as arabs and the Swahili people who were muslims. A general feeling I have from my childhood is that we lived in harmony, although limitations in deep social contacts were imposed by the fact that we were vegetarians unlike them.
I remember pleasant and colourful encounters in this respect. The holy month of Ramadhan was extra colourful since they had put up stalls along some streets, selling dates, nuts, fruit and other stuff that they ate in the evenings, when the fast was broken. There were also large pieces of ice being cut and sold (people usually did not have refrigerators in those days). I remember some evenings when we were watching a Bollywood movie in a cinema, when suddenly the muslims watching the movie got a message from outside that the prayer from the mosque had started, allowing them to break the fast - they had food with them which they started eating, and some had coconuts which they banged on the cement floor to break open. The month of Ramadhan ended with Eid ul-Fitr, when a big funfair (fete) lasting several days was organized. I have very pleasant memories from these.
There was also one more occasion for the muslims every year, when a similar funfair was organized. This was when they celebrated Eid ul-Adha, when a goat or a sheep was sacrificed. I have an unpleasant memory of a goat being sacrificed in the neighbourhood. I know that this is no big deal for all those who are non-vegetarians, since millions of animals around the world are slaughtered every day, but I have really never been able to emotionally accept slaughtering animals.
It was not uncommon to see a neighbour (usually a man) slaughter a hen along the corner of an alley. The man would place the hen with both wings under one foot, and the hen's legs under the other foot. Then he would hold the head, pull out some feathers from the neck, place the sharp knife on the neck, and glide it back and forth until the neck was cut through. Then he may continue standing for some time until the hen stops shivering. At times, he would release the headless hen from under the feet, and the hen jumped and jumped as if running to some hiding place for a minute or so, and then fell. The non-vegetarians then enjoy pieces of this hen for dinner!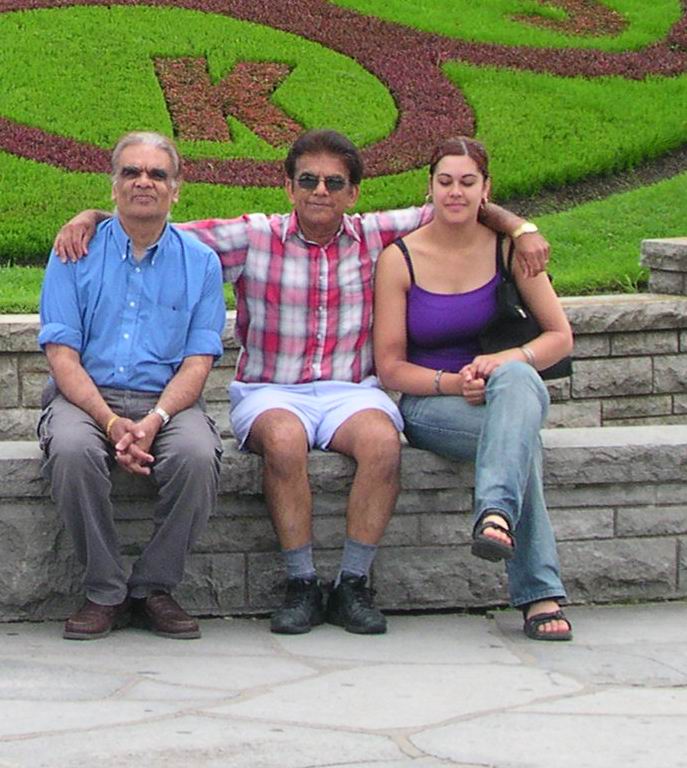 My "body-builder" brother Dhiraj (4 years older than me), flanked by me and my daughter Sara, near Niagra Falls, 2004.
The Evil Eye??
"The evil eye is a widely distributed element of folklore, in which it is believed that the envy elicited by the good luck of fortunate people may result in their misfortune, whether it is envy of material possessions including livestock, or of beauty, health, or offspring." [The Evil Eye]
Protective amulets are sold widely as jewelry (I have seen many in Turkey), to turn away or to turn back harm.
Although the belief in the Evil Eye is more or less stronger in different cultures, my mother had some belief in it. When my youngest brother Jagdish was about one year old (I was 9), we siblings were having a nice playtime one Saturday outside our residence, and had recently fed Jagdish with a bottle. Then suddenly, Jagdish started vomiting. We ran in home to my mother, who tried to shift his position in various ways, but Jagdish continued vomiting.
So my mother asked us if we really had put the small towel around the bottle when feeding Jagdish (to hide the food in the bottle), which we thought we had done. "Did anyone walk by and look intensively at the baby?", asked her. Then we recalled that about half an hour earlier, a woman had passed by, who stopped for a minute or so and said that the baby was very cute.
This made my mother very worried ("evil eye?"). Since Jagdish continued to vomit, there was no other alternative than to take him to our family doctor. The family doctor examined Jagdish briefly, and asked, "Did you give Jagdish anything sour to eat?". One of the siblings remembered that he had given a small piece of orange to Jagdish not long before Jagdish began vomiting!!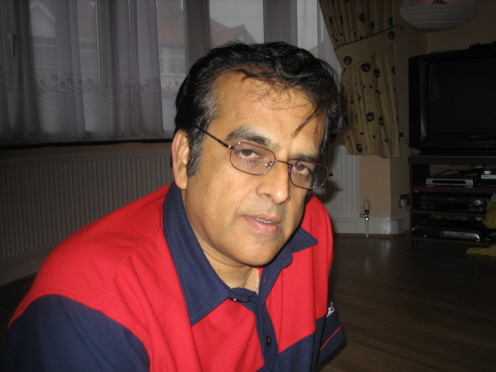 Jagdish at age 50
.
Some day before a Hindu marriage, the mehndi night is filled with family and friends painting their hands with intricate designs of henna paste (mehndi). During the marriage, the groom puts on his bride a mangalsutra, which corresponds to the western wedding ring. The mangalsutra usually consists of a gold ornament strung from a yellow thread, a string of black beads or a gold chain. The groom also places a special red powder between the parting of the brides hair (sindura danam). This red line identifies the bride as a married woman.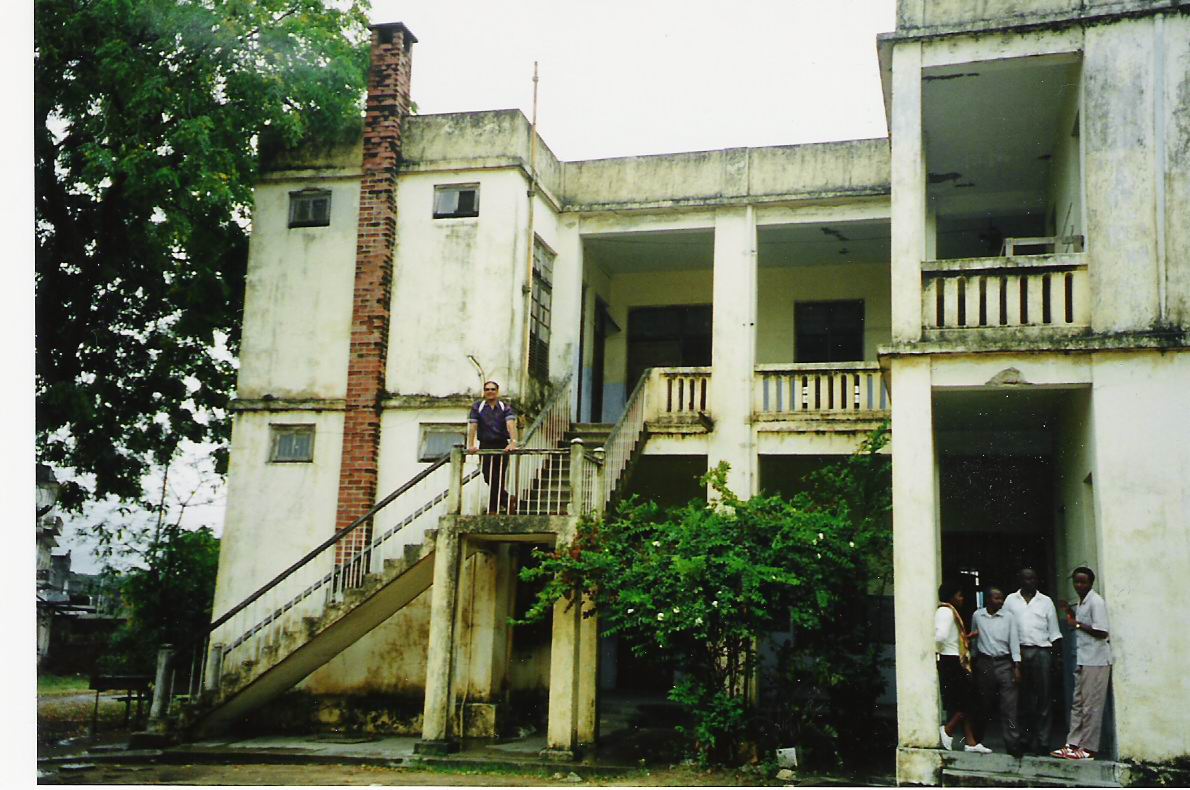 Two pictures of Makupa Primary School, from front where we sat and waited for the car (left), and from the inside (top).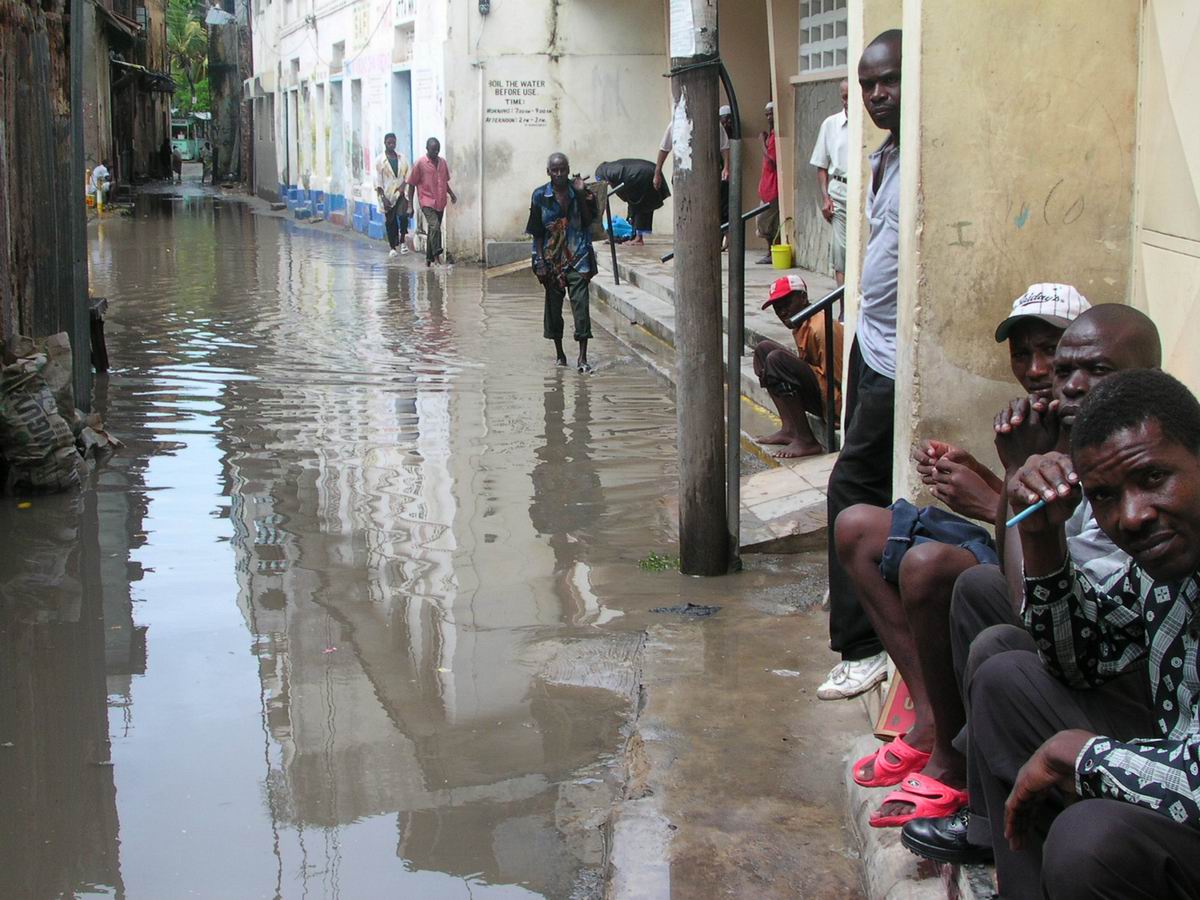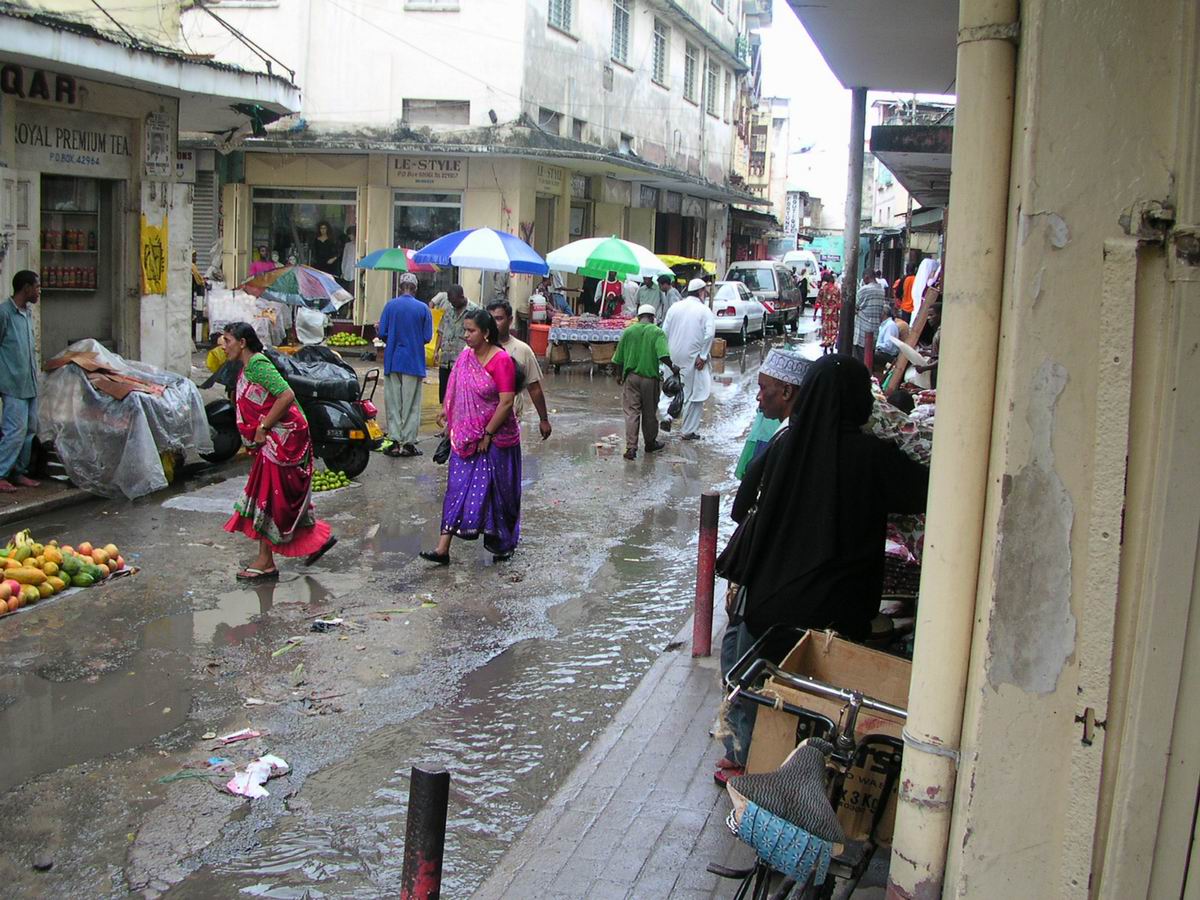 These three photos, taken in 2005, show the Mombasa streets after about an hour's rain. But during the monsoons, it could rain for many hours continuously.